The Pulaski County Detention Center houses county, state, and federal inmates. We service all law enforcement agencies in Pulaski County, Kentucky. These include:
Burnside Police Department
Science Hill Police Department
Ferguson Police Department
Contact information
Address:
300 Hail Knob Road
Somerset, KY 42503
Phone:
606-678-0130
Fax:
606-678-2050
Historical information:
Below is the first known mention of a jail for the county as documented in
A History of Pulaski County Kentucky

by Alma Owens Tibbals, published 1952.

"The first mention of a jail for the county was made September 24, 1799. On April 22, 1800 'a small log house' near Henry Francis' home was chosen as the first jail and Henry Francis was appointed as first jailer." (page 23)

"The first jail [constructed specifically for that purpose] was built in 1802 by Reubin Payne and Joel Jackson and cost $125. Phillip Sublette was appointed the first keeper of this jail. From all available information, its location was southwest of the present jail [in 1952]. This building was constantly out of repair, and in 1815 William Fox, John Tummelson, Tunstall Quarles, John Newby, John Gibson, Chrystopher Claunch, and Charles Hays were appointed commissioners to let out and superintend the building of a new jail and to select the proper location for it on the Public Square. This jail, built by Charles Hays, was completed December 25, 1820. Built of brick, it was located on the corner now occupied by the First National Bank. It served the county until 1868, when the building was sold to William Woodcock for a bank." (pages 14-15)
Historical photo credits: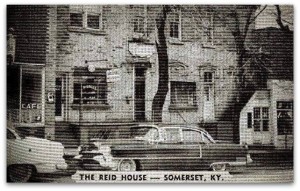 A later  jail was housed on the top three floors of the old courthouse building.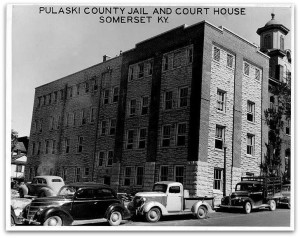 The current jail was opened in November 1989. The Pulaski County Jail consists of two buildings: the main jail which houses the majority of our inmates and the working inmate building that houses the inmates for our work program.